Shotaro BDAY.AD Project 2022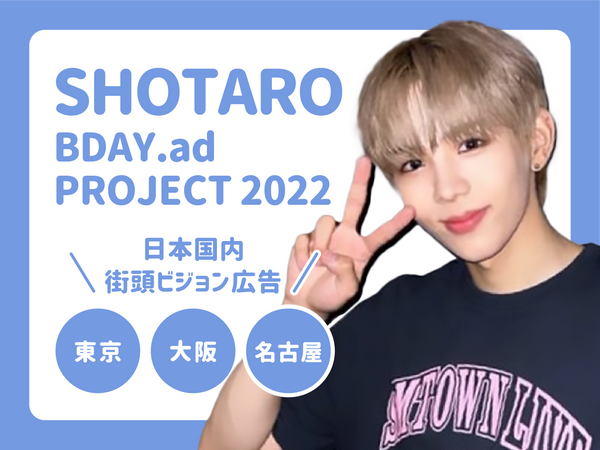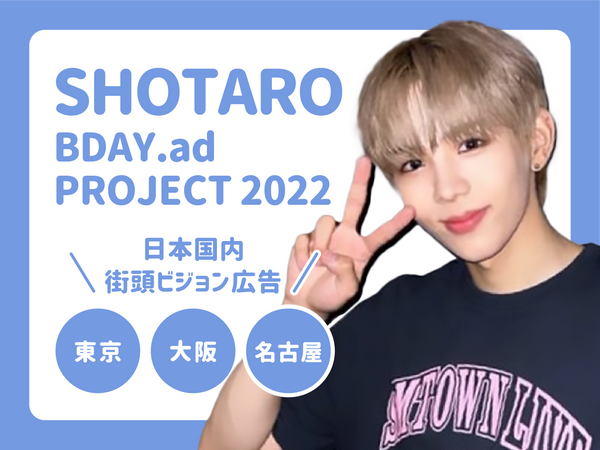 Precautions at the time of purchase
The name to put in the adInside the cartStore special notesPlease fill in.

About the planner of this project

Project planner
Taromil_j
TAROMILKTEA, which supports NCT/Shotaro to fulfill his dream
It's a cool and sexy dance style, but it's usually cute, and it's a wonderful humanity.
Main
@TAROmil_J_ad
support
@nyanya_tar0
@usausa1125taro
@tweetk14
[October 28, 2022] Additional contact crafand recruitment period
Initially, we were planning to recruit until November 6th, but our goalsBecause the investment amount was collected,I would like to close the recruitment at 23:59 on Friday, October 28.
Thank you very much for a lot of support money.
Nice to meet you.
About the background and thoughts
Shotaro debuted in the NCT and made his debut in a unit song in October 2020, but it was hardly exposed in 2021 because there was no fixed group.
Meanwhile, I want to deliver Shotaro to the public! I was able to act for the first time last year just last year, and I couldn't understand the right or left, and I was able to help various people to advertise.
And after two years, I feel like the signs of fixed group activities have finally come into view.
This year, I wanted to send my birthday celebration from more fans, with an ale for that activity, and launched a project to celebrate Shotaro, a birthday on November 25, with street advertising. 。
Let's celebrate NCT/SHOTARO's birthday!
Project Outline
Through Senil Advertising Agency JAPAN, this project raises support from everyone who can agree with this project in a crowdfunding format, and celebrates the birthday of NCT/Shotaro's Korean age 23 (22 in Japan). It is a plan to post support advertisements.
The posted location is the following place ... is my plans.
●  Tokyo (Unica Vision)
● Osaka (drip)
● Vision around Nagoya TV (55 sides) (Hisaya-ODORI PARK etc.)
▲Nagoya TV Vision (55 sides in total)
For those who have supported, we will prepare a return product according to the support. 
About support money
Target amount
1,000,000 yen (excluding tax)
How to use support money
The collected support is used for the following purposes.
● Cheering advertisement posted
● Advertising video production
● Delivery fee for returned goods (here is the cost of the return product itself)
If the amount of support exceeds the target amount, a location of the support advertisement will be added according to the amount, or donations will be donated (the donation destination in that case).
It depends on the result after the deadline, so we will guide you as soon as you know the details.
There is no private diversion. After all the work, we will report the income and expenditure.
If the support money does not reach the target amount
This project will be able to advertise even if it is less than the target amount.
Therefore, please note that there is no refund at all.
( However, this is not the case if it was not possible to fulfill the planned ads due to the organizer or the agency side.)
About return
We will give you a return product according to the amount of support.
* Cooperation3,000 yen or moreIf you can cooperate beyond that, please give me a thousand yen units.
(Please bear the fees for transfer etc.)
3,000 yen or more
● Video data
5,000 yen or more
● Video data
● Name (small)
● Treker
10,000 yen or more
● Video data
● Name (middle)
● Treker
● Seal sheet
15,000 yen or more
● Video data
● Name (large)
● Treker
● Seal sheet
● coaster
● key ring
20,000 yen or more
● Video data
● Insert name( Big)
● Treker
● Seal sheet
● coaster
● key ring
● Pouch
● Acrylic stand
Notes
● The consumption tax will be charged separately for the amount of support. Tax will be added at the time of payment.
● Please note that there is no return product in the case of support of 2000 yen or less.
● If it exceeds 25,000 yen, we will add something further (content undecided).
● The basis of this project is to cooperate to advertise.
If the benefits are changed in a hurry (to another equivalent, etc.), thank you for your understanding.
In that case, we will contact you by e -mail or Twitter that you have registered in advance.
● The name to put in the adInside the cartStore special notesPlease fill in.

● The return product will be sent by mail to the registered address.
● Advertising video data will be sent to the email address.
● Minors should refrain from cooperating from parents, or if not.
schedule
date
Content
progress

October 4th (Tuesday) -October 28th (Friday)

Support fund recruitment period
Achieved!

November 25th (Fri) to 27 (Sun)


(It may vary depending on the location)

★Advertising broadcast★

Late December (planned)


(Sometimes it may be changed)

Return product delivery


Payment method
The support money can be paid in the following way.
● credit card( VISA, MasterCard, JCB, American Express)
● Apple Pay
● Paypal
There are basically two types of payment methods, but if you really wish to transfer an account, please contact the organizer directly.
FAQ
Is it possible to cancel?
excuse me,You cannot cancel the content once supported. Please think carefully and support us.
Where should I ask for questions about the project?
For questions and opinions about the project, please contact our official LINE.
Is there a separate shipping fee to receive the return product?
The shipping fee is included in the support, so there is no separate shipping fee.